Traditional, Effective, Durable Metal Braces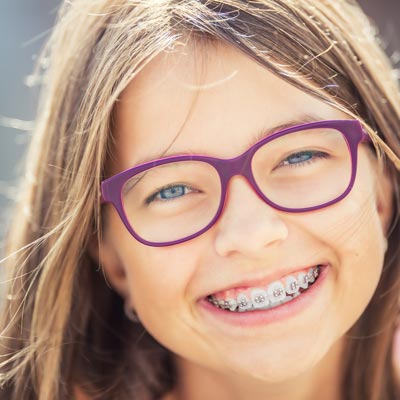 Traditional metal braces have evolved greatly and are still our number one way to move teeth. Our precision brackets are manufactured in Japan and each bracket is individualized for a particular tooth. The bracket is engineered with a prescription that determines the in-out position in the arch, the tip of the root and finally torque or how much the tooth angles outward. Precise bracket positioning is vital to success and is determined by the X-rays, present tooth position and the desired end result. That is why Dr. Bentele personally places all brackets and it is never delegated to assistants like in many offices. The extra effort is worth it as no amount of fancy hardware can make up for sloppy application.
FASTER TREATMENT & FEWER OFFICE VISITS
In addition to the highly engineered brackets, modern orthodontics depends on the literally space-age wires. SCIENCE WARNING!!! Our nickel-titanium wires were originally developed for space craft in a Navy laboratory and then adapted to orthodontics. The wires are heat activated and have shape memory. What this means is that as a wire is distorted to fit a crooked tooth, it rebounds to its original shape at mouth temperature. The pressure from the wire is transferred to the bracket which is bonded to the tooth which applies pressure to the tooth root. The pressure from the tooth root activates bone osteoclasts on the pressure side to dissolve bone and osteoblasts on the tension side to create bone. When we move teeth we are actually reshaping the supporting bone. These special wires apply gentle, continuous force over a long period of time unlike stainless steel wires of old which applied a harsh force for a short period. Cooling the niti wire can make it limp and easily adaptable. Ah Hah! Eating ice cream can lessen the pressure on your teeth!
MIX & MATCH COLORS WITH METAL BRACES
Colored O-rings are one of the most fun things about braces! Whether you want to wear your favorite color, celebrate the season, show school pride, or represent your favorite sports team, you will get a fun, new look every time you get an adjustment! You can even do two colors at a time or keep the same look for the entire course of treatment. We have a "color of the month" and we contribute a dollar to our Cleft Courage Bear fund for each participant. Our cleft patients receive a special Gund bear that has stitched lip for them to cherish. Anything leftover goes to our cleft events like the summer picnic.
Get a Smile You Can't Wait to Show Off
Overall, self-ligating braces have much to offer those who want a healthier smile – discreetly and quickly. With self-ligating braces, you don't have to sacrifice your schedule every single month or worry about ties and bands hindering your treatment process. Additionally, the brackets themselves are smaller and easier to clean, giving you confidence throughout your treatment. With faster treatment, fewer visits, and smaller and easier-to-clean brackets, you will get the smile you will love for the rest of your life! What are you waiting for? Get the smile you can't wait to show off!